Nationwide Car Insurance Review for 2023
UPDATED: Sep 21, 2023
Fact Checked
Free Car Insurance Comparison
Compare Quotes From Top Companies and Save
Secured with SHA-256 Encryption
Melanie Musson
Published Insurance Expert
Melanie Musson is the fourth generation in her family to work in the insurance industry. She grew up with insurance talk as part of her everyday conversation and has studied to gain an in-depth knowledge of state-specific insurance laws and dynamics as well as a broad understanding of how insurance fits into every person's life, from budgets to coverage levels. Through her years working in th...
Published Insurance Expert
UPDATED: Sep 21, 2023
It's all about you. We want to help you make the right coverage choices.
Advertiser Disclosure: We strive to help you make confident car insurance decisions. Comparison shopping should be easy. We are not affiliated with any one car insurance provider and cannot guarantee quotes from any single provider.
Our car insurance industry partnerships don't influence our content. Our opinions are our own. To compare quotes from many different car insurance companies please enter your ZIP code on this page to use the free quote tool. The more quotes you compare, the more chances to save.
Editorial Guidelines: We are a free online resource for anyone interested in learning more about car insurance. Our goal is to be an objective, third-party resource for everything car insurance-related. We update our site regularly, and all content is reviewed by car insurance experts.
UPDATED: Sep 21, 2023
It's all about you. We want to help you make the right coverage choices.
Advertiser Disclosure: We strive to help you make confident car insurance decisions. Comparison shopping should be easy. We are not affiliated with any one car insurance provider and cannot guarantee quotes from any single provider.
Our car insurance industry partnerships don't influence our content. Our opinions are our own. To compare quotes from many different car insurance companies please enter your ZIP code on this page to use the free quote tool. The more quotes you compare, the more chances to save.
On This Page
UPDATED: Sep 21, 2023
Fact Checked
If you're like most of us in the country today, there's a pretty good chance you own and drive at least one vehicle. Whether it's a four-door sedan, a monster pickup, or a 1957 vintage Harley-Davidson, insurance coverage is needed to keep you legal and on the road.
But which company do you choose? With so many car insurance companies to choose from, making such a critical decision can be difficult, at best.
In this comprehensive guide, we're going to provide everything you need to know about Nationwide, including ratings, company history, coverage options, and more.
Would you like to start comparison shopping today? Take advantage of our FREE online tool to start comparing rates in your area.
Let's get started.
Cheap Car Insurance Rates
In this next section, we partnered with Quadrant Data to bring you rates based on specific demographic factors. Here are two things to consider when shopping for car insurance:
Many variables can affect what you pay. Your price may differ from what is listed below.
Nationwide has discounts and options that may help offset the cost.
Nationwide's Availability and Rates by State
Nationwide is available everywhere in the contiguous United States. Rates vary, sometimes above and sometimes below average, and can be further affected by factors like driving record, marital status, and credit history. In the table below, you can see the rates of Nationwide in all states compared to other leading car insurance companies.
No matter what state you live in, if Nationwide is your insurance provider, there's a good chance that your premiums are less than those who don't have Nationwide. Nationwide's average rate is nearly 13 percent below the median average.
Comparing the Top 10 Companies by Market Share
Saving money is always a great thing, and one way to do that is to shop around and get the best rates for you and your family. How does Nationwide compare to the other top providers in the country on price? The table below compares Nationwide to nine other top companies on a state-by-state basis.
When it comes to rate prices compared to the other top insurance companies in the country, Nationwide scores well, coming in fourth place behind USAA, State Farm, and Geico.
Average Nationwide Male Versus Female Car Insurance Rates
Who pays the most for car insurance? Surprisingly, some states allow gender as a factor when determining insurance rates. However, Hawaii, Massachusetts, Montana, Pennsylvania, North Carolina, California, and parts of Michigan have banned this practice and no longer allow companies to use gender as a factor.
Age certainly has its benefits, as married, older drivers enjoy the cheapest car insurance rates. Male teen drivers are the most expensive group to insure. However, many companies offer discounts for teen drivers, so be sure and speak to speak with your agent.
Average Nationwide Rates by Make and Model
Considering a new car? One thing to consider when shopping for a new car is what kind of car you drive has a significant impact on the cost of your insurance. In the table below, we show rates for five specific vehicles, see how your rates compare.
Unlike rates with other companies, Nationwide rates differ only around $250 for the vehicles. Specifically, the Honda Civic usually costs hundreds more to insure with other companies.
Average Nationwide Commute Rates
How far you drive also impacts your car insurance rates. In the table below, we show data from Nationwide for two commutes based on distance.
Some companies charge hundreds more for a longer commute. The good news for Nationwide customers is only $25 separates the two commutes.
Average Nationwide Coverage Level Rates
You might think that having the lowest minimum coverage in your state is the best way to cover your insurance needs. But that's not necessarily the case, because the difference in low to high coverage is often less than you think.
Check out how the table below to see coverage level rates from Nationwide.
A little more than $100 separates low to high coverage with Nationwide. But what does this mean? Essentially, if you have an expensive car like a Porsche or Ferrari and only have state minimum requirements on it and have an accident, insurance won't cover the replacement cost of the vehicle, potentially costing you thousands of dollars.
Average Nationwide Credit History Rates
Do you have bad credit? If so, it could cost you in ways you didn't know. You may not be able to get a car loan or rent an apartment. Poor credit can also have an impact on how much you pay for car insurance.
The table below reflects what you'll pay for car insurance based on your credit score.
The average credit score in the U.S. is 675. If your credit score is lower, you may face increased rates on car insurance. In some states, poor credit can raise your rates by thousands of dollars. On average, with Nationwide, poor credit can raise your rates by $1,150.
Average Nationwide Driving Record Rates
Got a leadfoot? Do you like to put the pedal to the medal? What about having a few and getting behind the wheel? We hope you never drink and drive, but there are times when you may get a speeding ticket or be involved in a car wreck. Not surprisingly, these events may cause your car insurance to go up.
The table below reflects what you'll pay for car insurance based on your driving record.
One accident with Nationwide can raise your rates by over $600. Our best advice is to obey posted speed limit signs and never drink and drive.
Enter your ZIP code below to view companies that have cheap auto insurance rates.
Secured with SHA-256 Encryption
Coverages Offered
Nationwide offers the same coverage as all of the other top 10 companies do and, in some cases, at a competitive rate. Let's take a look at standard insurance terms and go into detail about what they mean.
Whatever your insurance needs, there's a good chance that Nationwide covers it.
Nationwide's Bundling Options
How can you save money on car insurance? One great way to save money on insurance is by bundling insurance products together. Here are the products available to be bundled from Nationwide.
By bundling insurance policies with Nationwide, you can save big through the company's multi-policy discount.
Currently, the available policy combinations Nationwide offer include:
Auto and home
Auto and renters
Motorcycle and renters
Auto, home, and life
Multi-car (if you insure multiple vehicles with Nationwide)
Boat and auto
Now, let's take a look at some of the other vital discounts offered by Nationwide.
Nationwide's Discounts
Nationwide has many options and discounts available to its customers. Depending on the discount, you could save up to 40 percent. Check out the table below to learn more.
One thing to remember is these discounts aren't available in all areas and may not apply to you.
Nationwide's Programs
What else does Nationwide offer customers? Check out the programs below to see if they may be beneficial to you.
Vanishing Deductible – Every year you remain accident-free, Nationwide will drop your deductible by $100.
Smart Ride® – Smart Ride lets you plug a behavioral monitoring device into your car. This device will record your driving habits for between four and six months. After the review period, you'll be awarded a discount based on how well you've driven. You also receive a discount for signing up for the program in the first place.
BonusDrive – As long as you drive a vehicle that appears on Nationwide's "approved vehicles" list, you will receive $500 upon signing up for the BonusDrive program.
Auto Shopping Service – Whether searching for a new car or a used one, Nationwide will help you find the best ride for your lifestyle with help from TrueCar.
On Your Side Repair Network – Nationwide also lists its preferred partner auto shops and will offer you a discount for visiting their garages.
Nationwide's Ratings
All companies advertise how much better they are than the competition, and Nationwide is no exception. The company says they are on your side, but is that a good thing? Let's see what multiple, independent agencies say about Nationwide and if they are the right car insurance company for your needs. Check out the scores in the table below.
Comparing the pros and cons is an important factor in choosing which auto insurance company is best for you.
AM Best
An AM Best rating measures the financial stability of a company, with A++ being the highest rating possible. Nationwide earned an impressive A+ rating, which means the company has a stable financial future.
Moody's
A rating from Moody's rating looks at how well a company can pay off its debts (its creditworthiness). Nationwide's A1 rating falls into the P-2 category, meaning the company has a "strong ability to repay debts and has a predictable, stable future."
This score is excellent because the last thing a customer needs is to file a claim and learn the company has filed for bankruptcy.
Better Business Bureau
This rating looks at multiple aspects of a business, although the most critical element is the company's complaint history. A complaint history shows how satisfied customers are with the service they receive.
Since A+ is the highest rating the BBB gives, the Better Business Bureau views Nationwide's A+ as exceptional and should be able to answer any questions quickly and to their best conclusion.
S&P Rating
What does a rating from S&P mean? This video explains more.
S&P awards Nationwide an A+, the highest score they can award. This excellent rating indicates that Nationwide is a credit-safe company that can protect investors and consumer finances with ease.
NAIC Complaint Index
The National Association of Insurance Commissioners (NAIC) measures the number of complaints a company receives. In 2018, the company's complaint ratio was 0.41, and below the national average of 1.51. One thing to consider is that your experience may be better or worse than these ratings based on your insurance needs.
J.D. Power
Another rating to look at when researching an insurance company is customer satisfaction levels. J.D. Power rates companies solely on customer satisfaction levels. Nationwide received scores of 796 out of 1000 throughout the country in providing a satisfying purchase experience, ranking it 12th among auto insurers.
Consumer Reports
Consumer Reports is a non-profit and independent organization that's working to bring transparency into the marketplace for consumers. The company works to help consumers with purchase decisions, drive fair competition, and improve the products that companies offer.
Customers had very complimentary things to say about Nationwide. One score that received an "excellent" rating was agent courtesy.
Consumer Affairs
As for the Consumer Affairs' rating of Nationwide, the company has received 1.9 out of 5 stars on 71 reviews. We should mention, however, that this rating reflects a small fraction of the total 1,025 car insurance customer reviews collected by Consumer Affairs in recent years. Consequently, this star rating may not present a complete picture of consumers' satisfaction.
Not every customer reports their relationship regarding the companies they deal with, so we encourage you to do your research and determine if Nationwide checks all of the boxes when it comes to your insurance needs.
Nationwide History
The Farm Bureau Mutual Automobile Insurance Company was founded in the mid-1920s in the state of Ohio. The company sold insurance products exclusively in the Buckeye State until 1943, when expansion took it into 12 states, including Washington, D.C.
In 1955, the company changed its name to Nationwide with the idea of selling its products countrywide. In 1968, Nationwide became the first auto insurer to establish a 24-hour claim reporting service. With corporate offices still located in Ohio, the company has grown into the eighth largest insurance provider in the United States.
Why should you care about the history of Nationwide? Because looking at a company's history provides crucial data about how successful the company is and what its future looks like.
But many factors make up a company, including how well it treats customers, its involvement in the community, and whether it's financially stable enough to weather volatile economic situations.
In the following sections, we're going to discuss everything from Nationwide's market share to what employees think about working there.
Nationwide's Market Share
The market share of a car insurance company determines how strong the company has become in the industry. A higher market share also means that a provider is the preferred choice of consumers.
Let's review the growth of Nationwide over the last several years.
Nationwide's market share has slipped from 3.85 percent in 2015, down to 2.73 percent in 2018. This decline is based on many factors, which we'll try to address as we continue through this guide.
Nationwide's Position for the Future
Like other large insurance providers, Nationwide has dealt with higher claim settlements lately due to natural disasters. According to Bizjournal.com:
The company paid $16.6 billion in claims and benefits to policyholders in 2018.
The article goes on to say that, according to CFO Mark Thrasher, "We continue to grow in places we want to grow. If you take apart the two businesses, financial services had a strong sales year and earnings, and the (property and casualty insurance) business had some bottom-line challenges but good performance."
Another way the company is working for the future was announcing a round of layoffs that would further decrease the number of employees at the corporate levels. Furthermore, the company is shifting its business model to independent agencies, meaning 2000 agents will need to become independent to maintain a relationship with the company.
With continued diversification and a new CEO taking the helm, Nationwide hopes to continue to maintain and grow its business by partnering with tech-giants to invest and expand in the years to come.
Nationwide's Online Presence
Nationwide has several options if you want to access information or get in touch with someone about your car insurance needs.
Online – You can find quotes and more online at the Nationwide website.
Agents – You can talk to agents by calling 1-877-669-6877.
Apps – Nationwide offers a mobile app through which you can access your policy information and contact agents.
No matter your preferred mode of communication, Nationwide does a great job of providing many different ways to keep in touch.
Nationwide's Commercials
We all know the jingle. Nationwide has been on our side for decades. Let's revisit some of the company's best commercials.
Here are Peyton and Brad:
Moving on from Peytonville, here's Leslie Odom, Jr, and his jingle:
And here's a version from Tori Kelly:
Whoever sings it best is a choice left for others to decide. What else is Nationwide doing besides being on our side? In the next section, we check out the company's involvement in the community.
Nationwide in the Community
Community outreach shows a company cares, and Nationwide has developed several programs where the company and employees can give back to the community.
The Nationwide Foundation was established in 1959 and was created to provide non-profit sponsorships and grants to businesses or organizations in need. Some of Nationwide's long-term partners include:
The United Way
The American Red Cross
Feeding America
In addition to the widespread efforts of the Nationwide Foundation, the company's Community Connect initiative provides volunteer opportunities for employees across the nation.
Employees have the opportunities to find opportunities, choose shifts, and log the hours they volunteer, for which they are rewarded with paid time off.
Nationwide's Employees
Have you wondered what it's like working for a big insurance company? Let's look at what employees think of Nationwide. How a company treats its employees gives us insight into the company's values and employee satisfaction levels.
Let's begin by looking at employees' experience ratings according to A Great Place to Work.
Over 82 percent of employees say Nationwide is a great company to work for.
Another dedicated employee site, PayScale.com, has awarded the company an overall satisfaction rating of 3.7 stars. Respondents also rate the company's outlook 3.9 stars, gave 3.8 stars for learning and development, and 3.5 stars for employee appreciation.
Additionally, A Great Place To Work goes on to say Nationwide has been awarded several awards and accolades, including the following:
Are you interested in learning more about a career with Nationwide? Click here to learn more about possible opportunities.
Related Article: Geico vs. Nationwide — which is better?
Enter your ZIP code below to view companies that have cheap auto insurance rates.
Secured with SHA-256 Encryption
Canceling Your Policy
Occasionally, a situation may arise when you need to modify or cancel your insurance policy with Nationwide. Here are four examples which may apply to you:
Selling a car and not replacing it
Storing a classic or antique vehicle
A teen is heading to college and will no longer be driving the vehicle
A vehicle has been paid off and no longer requires comprehensive coverage
But what if you want to cancel your policy for other reasons? Are you a dissatisfied customer? Are your rates too high? Maybe you're just moving out of state and want a fresh start. In this next section, we're going to show you the steps involved with canceling an insurance policy with Nationwide.
Cancellation Fee
Unlike some other top 10 insurance providers, Nationwide doesn't assess a cancellation fee if you choose to cancel your policy.
Is there a refund?
For customers who do cancel their policy, they can expect to receive a prorated portion of their policy.
How to Cancel
You'll need to pick up the phone and call 1-877-669-6877 or call your local agent if you want to cancel your policy. Nationwide's website does allow you to modify or change some policies but doesn't allow for canceling a policy.
Option Two – Cancel by Mail
If you wish to submit written notice, you can send your letter to this address: One Nationwide Plaza, 1 West Nationwide Boulevard, Columbus, OH 43215.
To allow time for your notice to process, mail your letter at least two to three weeks before the date you intend for the policy to end.
Option Three – Cancel in Person
With Nationwide's availability throughout the country, you could also choose to meet with a local agent or your dedicated agent to cancel your policy in person.
If you're unsure where to find a local agent, check your policy documents or the Find an Agent locator tool linked previously for a list of agents located in your ZIP code.
When can I cancel?
You can cancel your policy at any time. Additionally, if you are switching providers because of personal reasons and will still need to have coverage, make sure you have chosen another company. If you don't take this step, you may have a lapse in coverage, which can result in fines from the state and higher rates from prospective insurers.
How to Make a Claim
Unfortunately, a time may arise when you've been involved in an accident and need to file a claim with your insurance company. We know in times of stress, you need a company that is fast and reliable and can help you through the process.
In the next section, we're going to discuss how the claims process works and how many claims were paid out.
Let's begin.
Ease of Making a Claim
Nationwide makes it easy to file a claim with them in the following ways:
By phone, calling 1-800-421-3535
Contacting your local agent
Using the Nationwide cellular app
Online Claim Form through Nationwide's site
Once you've filed a claim, you can track the claim's progress in your online account with, or call and talk to a representative with any additional questions.
But how does Nationwide payout claims to its customers?
Premiums Written
How do premiums written relate to claims? The answer to that question is, the higher the number of premiums written, the less customers have to pay. A company with lower written premiums will have to charge policyholders more to cover the cost of accident claims.
Let's take a look at the NAIC's data on Nationwide's written premiums.
Nationwide has seen its premiums written go up and then decline in the next year. But in 2018, the company wrote 617 million premiums less than in 2017, which is a significant drop. Such a drop bears watching to see if it is a one-time event or related more to a volatile market.
Loss Ratio
What exactly is a loss ratio?
A loss ratio calculates the number of written premiums compared to the number of claims. A company with a 55 percent loss ratio is paying $55 on claims for every $100 earned from written premiums.
A high loss ratio may seem reasonable, but anything over 100 percent means a company is risking bankruptcy. Conversely, a low loss ratio means a company isn't paying out a large number of claims.
In each year for which loss ratio was measured, the numbers were all within the normal range. The consistent decline in loss ratio is also good news for Nationwide, considering its decrease in premiums written between 2017 and 2018.
How to Get a Quote Online
Ready to get a quote? In the next section, we show you the steps needed to get an online quote from Nationwide.
Before you get started, be ready to provide the following items:
Date of birth
Contact information (name, phone number, address)
Social Security number
Vehicle information
Step One – Go to the Nationwide Website
Open up a new webpage and navigate to the Nationwide website. Scroll down to the middle of the page, where you will see the following quote section. Click on the auto-icon.
Step Two – Enter Your ZIP Code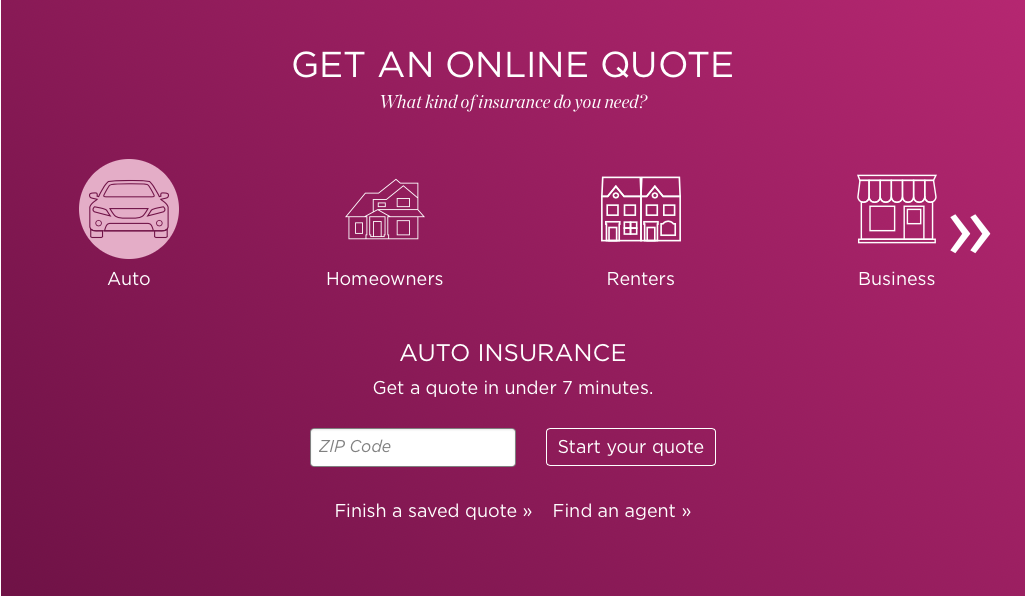 Enter your ZIP code in the box and hit "Start Your Quote."
Step Three – Enter Your Personal Information
Enter your name, address, date of birth, email address, and phone number. Click "Continue."
Step Four – Choose Vehicles to Be Included in the Quote
Based on the information you provide, you'll be prompted to select from a list of possible vehicles for your new policy. You can also add vehicles. Choose the vehicle(s) you want to be included in the quote and hit "Continue."
Step Five – Fill in the Vehicle Information
Next, you'll need to complete the vehicle information for the cars you selected. Once done, select "Continue."
Step Six – Fill in Driver Details
During this step, you'll be prompted to confirm some of the personal information previously provided, along with other vital information, including marital status and previous accidents and violations, if applicable.
There's also an option to add another driver to the quote if you missed it on the previous step.
Once finished, select "Continue" to proceed.
Step Seven – Provide Information Regarding Prior Insurance
Here, you'll provide details about your current or previous insurance policy, including the date coverage ends, how long you've been with your current insurer, and your chosen coverage limits.
Select "Continue."
Step Eight – Select Discounts and Finish Your Quote
At this last step, any discounts triggered by the information you provided will be revealed. You'll have the chance to select other discount opportunities.
Once you're ready, select "Continue" to complete your quote. You'll see a list of potential discounts and coverage options. If you're prepared to purchase your policy right away, select your coverages and navigate to the "Purchase" button at the bottom to proceed.
Enter your ZIP code below to view companies that have cheap auto insurance rates.
Secured with SHA-256 Encryption
Design of Website and App
While other car insurance company websites and apps may be difficult to navigate, Nationwide's is easy to use. On the website, it is easy to find whatever information you're searching for. Just click from any of the categories on the drop-down menu and go.
At the top of the page, you will see tabs that drop-down into menus with more choices. The tabs give a full breakdown of what the company offers and leads you to more information.
Keep scrolling toward the bottom of the homepage to learn more about Nationwide's mobile app and access other helpful resources.
At the very bottom of the homepage, you can click through to Nationwide's social pages, careers page, Contact Us page, About Us page, and other helpful links.
Finding answers is quick and effortless with Nationwide's website. With a simple click or hovering your mouse over a dropdown menu, you can find the answers you need in moments.
The design is simple enough that it makes it easy to find what you need but still colorful and professional looking. They make it easy to find what you're looking for.
Let's move on and check out the app from Nationwide.
Mobile App
Nationwide's mobile app is available on Android™, iPhone®, and iPad®. Through the app, you can make payments, manage your payment methods, file a claim, save ID cards, get claims status info, request roadside assistance, and more.
The App Store version has a 4.3-star rating based on over 2,000 ratings. The Google Play Store has 3,840+ reviews for a 4.2-star rating at the time of this review.
Multiple users have noted complaints with pages not loading and the app freezing on the login screen, but overall, most reviews are positive. Consumers have also reported that the app is fundamental and could offer more options.
Pros and Cons
Now that we have covered everything you need to know about Nationwide, let's check out the biggest takeaways in terms of pros and cons.
Nationwide rates are mid-level compared to the other top 10 companies, and they offer many discounts to choose from that may lower the price. They've also been around a long time and are a well-known brand. A top concern may be the decline in premiums written, but according to company officials, they are streamlining and modifying its business model to keep up with economic changes.
Nationwide Car Insurance Claims Process
Ease of Filing a Claim (Online, Over the Phone, Mobile Apps)
Filing a claim with Nationwide is a user-friendly process designed to accommodate a variety of preferences. Customers can initiate a claim online through Nationwide's website, providing essential details and documents electronically.
Alternatively, they can opt for the convenience of filing a claim over the phone by contacting Nationwide's dedicated claims hotline. For those who prefer mobile solutions, Nationwide offers a mobile app that streamlines the claims process, allowing users to submit claims, upload photos, and track their progress from the convenience of their smartphones.
Average Claim Processing Time
Nationwide's commitment to prompt claims processing is evident in their efficient handling of claims. On average, Nationwide boasts a relatively quick claim processing time, ensuring that customers receive the support they need when they need it most. The company's goal is to minimize the disruption caused by accidents or unforeseen events, allowing policyholders to get back on the road with minimal hassle.
Customer Feedback on Claim Resolutions and Payouts
Customer feedback plays a pivotal role in assessing an insurance company's performance in handling claims. Nationwide prides itself on its customer-centric approach to claim resolutions and payouts. The company consistently seeks input from policyholders to ensure their satisfaction with the claims process.
While individual experiences may vary, Nationwide's commitment to addressing customer concerns and delivering fair and timely claim resolutions is a cornerstone of their service.
Enter your ZIP code below to view companies that have cheap auto insurance rates.
Secured with SHA-256 Encryption
Explore the Digital and Technological Features of Nationwide Car Insurance
Mobile App Features and Functionality
Nationwide's mobile app offers a range of features and functionalities designed to enhance the customer experience. With the app, policyholders can manage their insurance policies on the go, access digital ID cards, and even file claims directly from their smartphones.
The user-friendly interface and intuitive navigation make it easy for customers to stay connected with Nationwide and access vital information and services whenever and wherever they need them.
Online Account Management Capabilities
Nationwide's online account management capabilities empower customers to take control of their insurance experience. Through their secure online accounts, policyholders can view policy details, make payments, request policy changes, and access important documents and forms. This digital convenience simplifies policy management, ensuring that customers have the information they need at their fingertips.
Digital Tools and Resources
Nationwide goes beyond traditional insurance by providing an array of digital tools and resources to assist policyholders. These resources include educational materials, calculators, and informative articles aimed at helping customers make informed decisions about their insurance coverage.
Nationwide's commitment to digital innovation ensures that customers have access to valuable resources that enhance their understanding of insurance and financial planning.
The Bottom Line
Knowledge is power, and that's why we've shown you everything you need to know about Nationwide, so you can decide for yourself whether they are the right insurance company for you. Did we miss anything? What did you find most useful?
Nationwide has a long, storied history and has continued to grow and modify with changing times. Employees love working there, and the company gives back in many ways.
Multiple rating agencies give the company high marks for financial stability and customer satisfaction. One thing to consider is that everyone's needs are different, and rates can vary significantly based on individual factors.
As comprehensive as this guide is, your rates will vary and depend on the information you provide.
Get quotes today to find out how much you could save on car insurance. Get started by simply entering your ZIP code in our FREE comparison tool.
Company Car Insurance FAQs
Have further questions about Nationwide? We've answered a few common questions about the company below.
What do you need to obtain a Nationwide quote?
To get a quote online, you'll need to furnish your name, date of birth, address, phone, and email to get a quote. Also needed to complete an online quote are your vehicle information and any citations or accidents.
How do you qualify for the Good Student discount?
Drivers between the ages of 16 and 24 enrolled in high school or college full time may qualify for the Good Student discount. Students must maintain at least a B average academically.
Does Nationwide cover hail damage?
Comprehensive coverage covers damage from incidents other than a collision or rollover. Storm and hail damage can occur anywhere in the United States, so if you park your vehicles outside, purchasing comprehensive coverage might be a good option.
Does Nationwide car insurance include roadside assistance?
Roadside assistance coverage is available as an add-on to your Nationwide policy. With roadside assistance, there are a variety of service options, including battery jump-starts, gas delivery, lockout aid, towing up to 15 miles, and flat tire replacement.
Is Nationwide car insurance expensive?
The cost of coverage with Nationwide will vary depending on many of the factors mentioned above. To get the best protection at an affordable price, we encourage you to look at all discounts options available from Nationwide.
Enter your ZIP code below to view companies that have cheap auto insurance rates.
Secured with SHA-256 Encryption